When you start the home building process, you'll see the term "custom build" thrown around a lot. It's a concept that seems vague as it's used in so many different contexts by different home builders.  For some builders, a "custom-built home" means that you get to choose some of the finishes, but the floorplan and amenities are fairly set. Other builders have their Indianapolis custom-builds starting from scratch, where you are the final arbitrator of every nook and cranny.
So, as you shop around for builders, what should it mean to custom build a home in Indianapolis?
You Determine The Amount Of Customization Possible By The Type of Build
While many groups term themselves custom-builders, you may want to see if their work matches the claim.  Here are some different kinds of builds that are commonly used in the Hamilton County area.
Production Builds: 
Production build houses generally come with non-negotiable floor plans. You may have some choices on cosmetic finishes, but everything else is pretty much set.  Production builders have a different objective than custom builders as they are interested in creating neighborhoods of nearly identical houses so they can pop-up quickly.  Both the builder and the homeowner can save time and money, as the builder just replicates the same house over and over again.  
Semi-Custom Builds:
Some custom builders, like Old Town, have semi-custom build options in their portfolio. These consist of tried-and-true floor plans; however, you have a good deal of customization options like cabinetry, flooring or exteriors. Some semi-custom builds also allow you the option to add extra space such as a basement or extra bedroom. The pre-designed plan is flexible enough where your personality can still be reflected in the final product.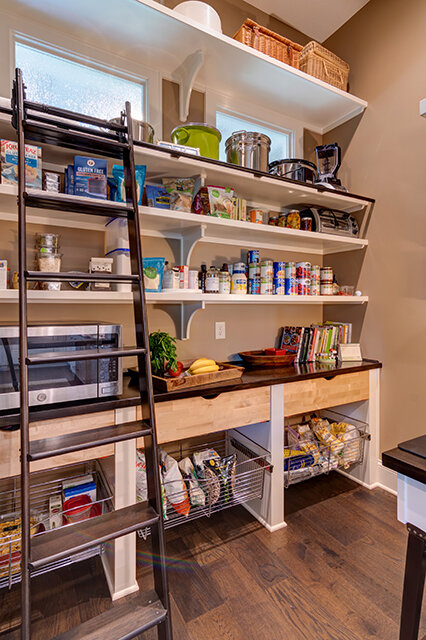 Custom Build:
When you truly custom build a home in Indianapolis, you should have complete control over the end product.  You and your designers will have in-depth discussions of your goals and needs, and then create a plan that's right for you.  All options are at your disposal and you — and you alone — are the final arbitrator if something makes it in the home.  The result is a truly unique house that perfectly fits your family's personality.
Does A Custom Home Always Have To Start From Scratch?
As stated before, you are the final arbitrator of your custom-built home.  You may know exactly how you want your house laid out and the precise measurements of each room.  If you can fully describe what you want, your design group should be able to develop a plan that reflects your vision.
But you might have anxiety starting with a blank page. For a lot of those who undergo a custom build, they want to start with floor plan examples that they can then tinker with.  After seeing a visual representation, they can then move bedrooms around, enlarge kitchens, add custom rooms. etc.  The final floor plan may not remotely resemble your starting off point — it is a custom build after all — but it was that initial picture that helped you get to the destination.
What Limitations Do You Have When You Custom Build A Home In Indianapolis?
Unlike production homes and semi-custom homes, the only limitations are budget and space. You have the final decision on every aspect of your custom build from flooring to layout to lighting fixtures and so on.  You can change the minutest detail — like having USB options in your outlets — based on your preferences.  Just remember to lean on the expertise of your builder to keep your ideas practical and on budget.
Old Town Is The Premier Custom Builder For Your Custom Home
Old Town is the premier custom builder in Carmel and Hamilton County.  We have a reputation for listening to our clients and delivering the perfect home on time and on budget.  Contact our new home consultants at 317.816.3150 to get started on your new custom-built house.
October 21 @ 2:00 pm - 4:00 pm
Explore design trends with Wendy Langston, owner of Everything Home Designs, while touring Old Town's newest model in Holliday Farms. Get a sneak peek of model designs and furnishing before we open to the public this win...