The Monon Trail is an Indianapolis staple, perfect for those who enjoy spending time outside and exploring local finds. Starting in Sheridan and ending in downtown Indy, the paved trail flawlessly transitions from wooded serenity to suburban quaintness to urban scenery. With frequent access to bathrooms, water stations and Mom-and-Pop shops, the Monon Trail has quickly become a popular venue to run, walk or bike. Once a rail line to connect Indianapolis to Chicago and Louisville, the Monon continues to connect the people of Indianapolis.
For some, the Monon Trail even feels like an extension of their own backyard. Neighborhoods, like Sunrise on The Monon in Carmel, give you immediate, year-long Trail access so you can bike or walk on the Monon to your heart's delight. For those who may not run daily or bike competitively, there also may be some hidden benefits of living along the Monon Trail.
Skip the Traffic to Get to Some of the Best Restaurants
Traffic in the Indianapolis area can be awful in the Northern Indianapolis Suburbs, especially during the weekends and rush hours. However, with a quick trip down the Monon, you can find some wonderful restaurants without ever getting into your car.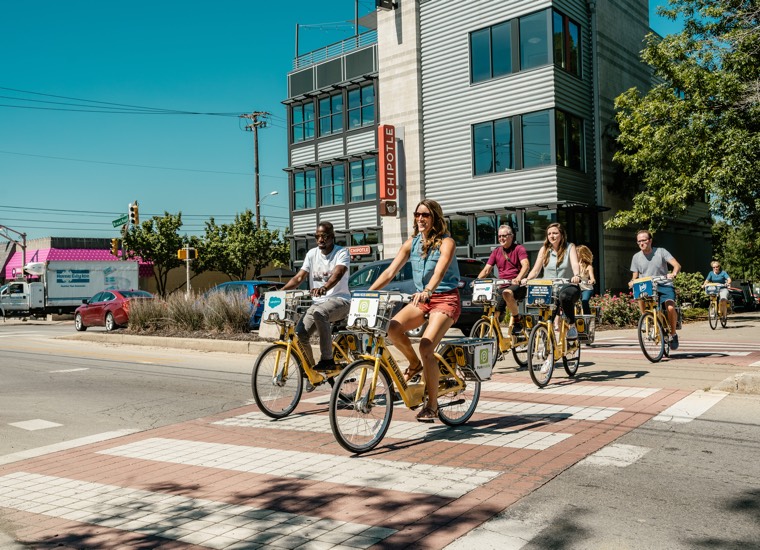 Start from your custom home in the Sunrise on the Monon neighborhood and grab your bike for a 15 minutes ride to some of the best tacos in town at Chris' Ice Cream on 86th. A little bit further south and you're in Broad Ripple, where you can pick up a latte at Perk Up Cafe or hit Good Morning Mama's for brunch. Pedal north past the Monon Center and take a leisurely ride into downtown Carmel, ready for a bite at Bub's Burgers or Matt the Miller's Tavern.
Shopping Is More Fun and Less Than A Chore
Those who bike or walk down the Monon Trail for food, also know that they have access to shopping and entertainment. You can get fresh fruits and veggies from the Carmel's Farmer's Market or peruse all of downtown Carmel's small shops. Off of 54th street and the Trail, you'll find the personable Mass Ave Toys and The Bike Lane. If you are feeling adventurous, you can go all the way into Indianapolis and catch the Culture Trail.
Each section of the Monon seems to have its own character that's begging to be explored. You can spend an entire day jogging past the street art and murals in Broad Ripple and Downtown or take your e-bike out into the openness of Westfield and Sheridan. It will become second-nature to utilize the Trail weekly for those who live nearby. What may first start out as a way to stay active can soon turn into a way to socialize with friends and family while walking to dinner.  
Expect People To Come Over and Socialize Frequently
Biking or walking down the Monon to get to shopping, restaurants and entertainment becomes natural for people who live off the Monon Trail. One of the reasons custom-built houses are popular in Monon Trail neighborhoods is so residents can design their homes to reflect the need for larger entertaining areas. The key is to work closely with a design firm that routinely custom-builds in Monon Trail neighborhoods, as they will have plenty of suggestions of what you can expect. Then you design your home to accommodate Monon Trail living and your personal lifestyle.
It's easy for houses in neighborhoods that border the Trail to become the starting or ending point of a day adventure with friends and family. With such easy access, expect to have visitors ready to run down the trail for Carmel Fest or Jazz on the Monon.
Old Town Can Custom-Build the Perfect House on the Monon Trail
Old Town's community of custom homes, Sunrise on the Monon, is right off 99th and Westfield Blvd, with lots bordering the Monon Trail. Whether you start with a pre-designed floor plan or design your home from the ground up, Old Town can help you enjoy all the benefits of living along the Monon Trail. Contact Adam at 317.691.6885, to see lots and start the design process.
October 28 @ 2:00 pm - 4:00 pm
Be one of the first to walk through our newest townhome development, Midland South! Steps from the Midland Trace Trail, these contemporary townhomes feature three levels, with a two car garage, covered outdoor living spa...