When you build a custom home, it's just as important to decide where to build as it is what type of house to build. For those looking to live on the north side of Indianapolis, you have a plethora of choices. Many people want a neighborhood that's peaceful and friendly, yet close to all the amenities of a Carmel or Broad Ripple — and it wouldn't hurt to have direct access to the Monon Trail.
If this sounds like you, you may want to try building a home along The Monon.  Here are the top 5 reasons why:
1.) You Have Direct Access To The Monon Trail
The Monon Trail is the unique pedestrian path that runs from Downtown Indy to Westfield and beyond. Created from an abandoned railroad line, the Monon has become more than a great way to get a bike ride or run in. It also has become a popular avenue to get to shopping, dining and various recreation parks.  You can even go all the way to the fairgrounds or the Culture Walk downtown.
When building in Sunrise on the Monon, you have direct access to the Monon Trail. You won't have to traverse a busy road or find a place to park in order to use the trail, as it's right there in your backyard. Best of all, when you're tired and sweaty from your bike ride or run, it's just a block or two to your home. After a few weeks in Sunrise, you'll start seeing the Monon as a great way to get to Carmel, Broad Ripple and even Downtown Carmel. 
2.) Sunrise On The Monon Is Close To Amenities But Still Quiet And Serene
Being nestled between 99th and Westfield Blvd, you may expect to hear a good deal of road noise in your Sunrise on the Monon custom build. However, the neighborhood layout uses wooded areas and large streets. This makes the community itself seem quiet and serene. 
Homeowners have remarked that they can keep the windows open on a nice spring day and not hear one peep from the road noise. Sunrise on the Monon doesn't seem removed from Carmel, but it does serve as an oasis from the hubbub of city life. The lack of traffic noise makes spending time in your custom outdoor living space all the more enjoyable.
3.) Sunrise On The Monon Is Filled With Friendly, Multigeneration Neighbors
Two main areas compose Sunrise On The Monon. The lots in the Villages section feature semi-custom homes from our Semi-custom line and are situated on more intimate lots. This part of the neighborhood has been popular with first-time home builders, families and empty-nesters looking to simplify.  Fully custom-home builds usually sit within the Woodlands section. 
It's safe to say that Sunrise On The Monon has households in every stage of life. What binds the neighbors together is that each custom-build is a newer home which has created a sense of community. That's probably why neighborhood events such as Food Truck Fridays are so popular!  Just be prepared to meet the neighbors when you build in Sunrise On The Monon, as everyone will want to see the personal touches you put on your custom home.
4.) The Key Series Brings A Custom Build At An Affordable Price Point
Old Town's semi-custom line is exclusive to Sunrise on the Monon. These houses have pre-designed floorplans in popular styles — Craftsman, Modern, Coastal, Tudor, American Standard or Farmhouse — which can be customized to fit your needs. Most Key series homes are nestled in the Villages section, giving you several similar-sized houses, but all in different, but complementary, styles.
What makes our Semi-custom homes so popular is that we keep the same building process as we use for our million-dollar builds. They are built with top-of-the-line materials and exemplary attention to details, and with plenty of opportunities to add your personal stamp. Those who never thought about a custom-home love building in Sunrise on The Monon because Semi-custom gives them a starting floorplan that they can then alter to fit their lifestyle.
5.) Sunrise On The Monon Is Close To Carmel and Broad Ripple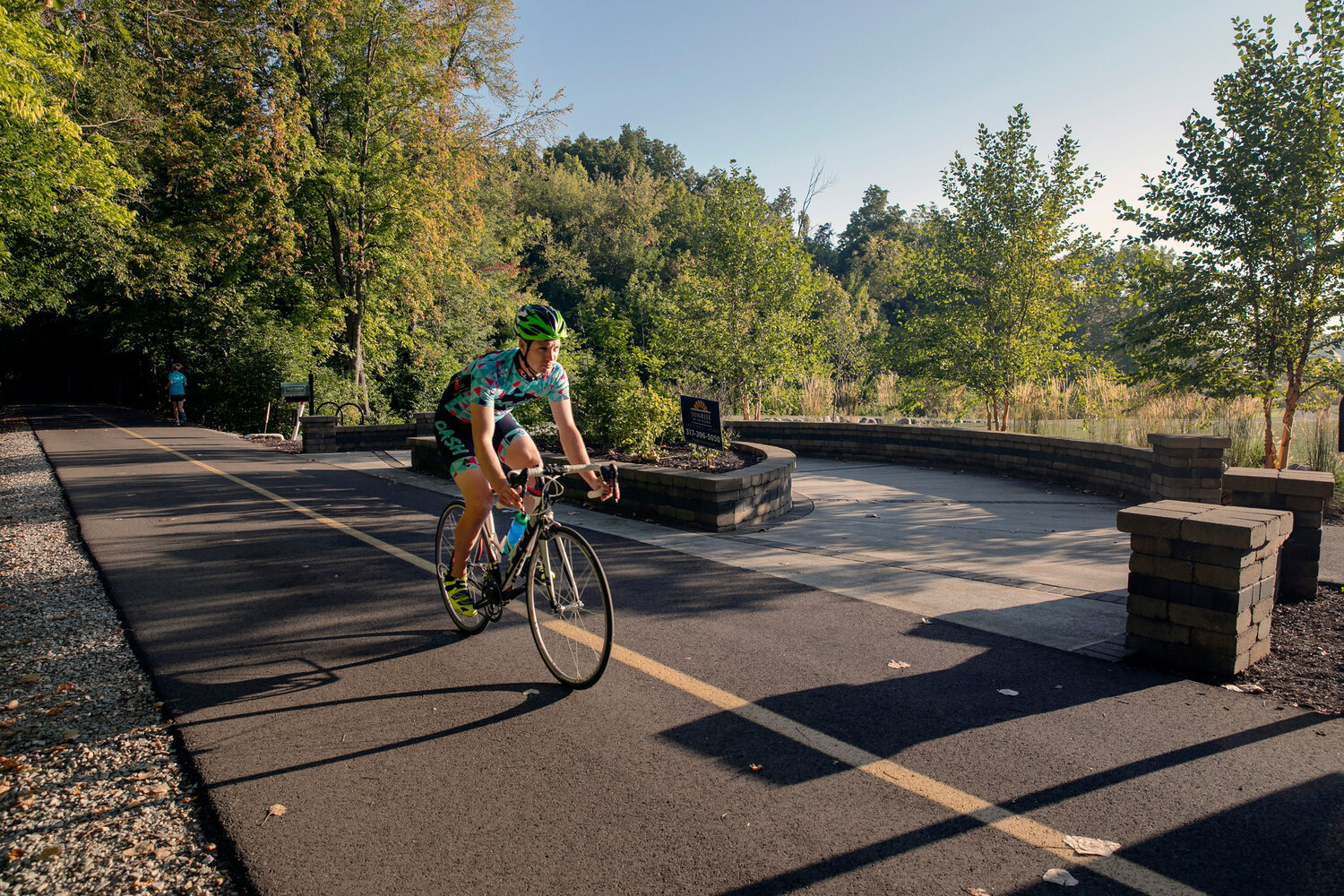 Living in Carmel has its advantages. Carmel-Clay schools have been singled out as one of the best districts in the country.  Its downtown has a variety of shopping and dining experiences that your entire family will enjoy.  And with Christkindlmarkt, Carmel Fest, Porch Fest, and Meet Me On Main, there's not a month that goes by without some sort of activity.  And it's all down the Monon Trail. 
Go the other way, and you run into Broad Ripple. Broad Ripple has plenty of personalities that should be explored.  Filled with unique shops and dining, the town has a laid-back vibe perfect for a Sunday stroll.  It's even better when you bike there from your Sunrise on the Monon house, as it's all just down the Trail.
Old Town Is The Exclusive Builder For Sunrise On The Monon
When you look at all the benefits to building in Sunrise On The Monon, you'll definitely get more than five — especially when you factor in that your builder is Old Town Design Group.  Indianapolis Business Journal rated us the #1 custom home builder in Indianapolis, and we're proud to hear that 95% of our clients would recommend us to a friend or family member.  To get started with your Sunrise On The Monon build, contact our new home consultants at 317.691.6885.
October 28 @ 2:00 pm - 4:00 pm
Be one of the first to walk through our newest townhome development, Midland South! Steps from the Midland Trace Trail, these contemporary townhomes feature three levels, with a two car garage, covered outdoor living spa...