Color giants like Pantone, Sherwin Williams, Behr, PPG and Benjamin Moore released their 2019 Colors of the Year and the one thing they have in common: bold tones. So far, 2019 is shaping up to be a year full of daring color, bold patterns and mixed textures for new homeowners. Gone are the days of the variety of grays in a home, here to stay are the bold tastes of the future. Here are a few other design features that we think will take over 2019.
---
Bold exterior doors: A good first impression is always important, right? Many homeowners are choosing to let their front doors show more personality than ever before. What was once an after thought in home design, exterior doors are now becoming an important decision for homeowners thanks to bold color choices and intricate window designs. Think of the colorful front door as the first step into your homes' style.
This vibrant blue door stands out against the cream and white siding.
Need a pop of color to brighten dark siding? Consider a bold green or yellow.
---
Full wall tile with prominent designs/colors: While white subway tile has ruled in recent years, bold patterned tile and colored grout are grabbing our attention this year. We're expecting an increase of geometric tiles, paired with Moroccan designs and daring colors to add a pop of personality to kitchens and bathrooms. By creating a focal point through the use of a full tile wall, concealed cabinets are not a necessity. Instead, embrace floating shelves to display all of your best dishes or decorative pieces.     
This bright, eye-catching blue tile is a showstopper in this modern kitchen.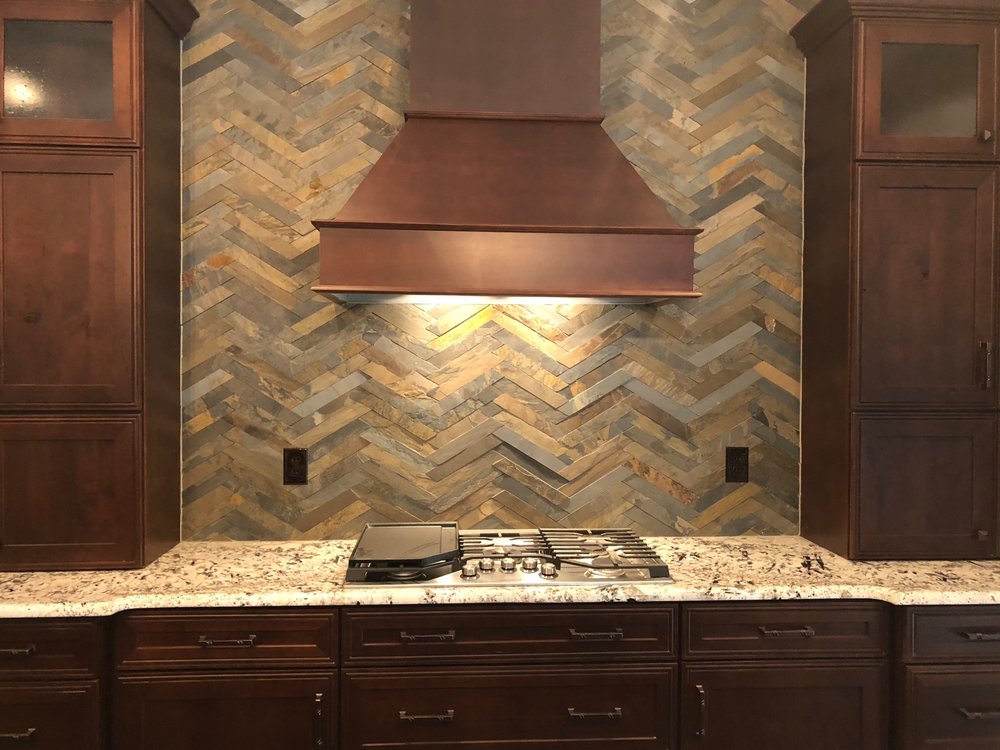 This natural stone backsplash creates a rustic feel throughout this kitchen.
---
Windows, windows, windows: The evolution of our windows has changed drastically in the last few years. Used to, windows were limited to a few color options and placements throughout the house. However, thanks to the continued product development of brands like Pella, homeowners are able to create their perfect oasis with black or color framed windows. There has been an increase of designing a room to have as much natural light as possible, creating 'window walls' to open spaces even further. 
Large windows bring in the maximum natural light in this master bedroom.
Black window casings add a dramatic flair to this nature inspired home.
---
Textured Wallpaper: Floral prints are still popular in the realm of wallpaper, but the emergence of textured wallpaper is taking over. If covering a wall in reclaimed wood is not an option, this is a great alternative to consider, giving the room added depth with this textured look. Textured wallpapers are adopting geometric and nature-inspired patterns, including the ever-desired fiddle-leaf fig or palm leaves, showcased in our newest model home, the Sycamore.
Black and white textured wallpaper adorns the powder bath in the Sycamore model.
This geometric textured wallpaper is subtle, but brings this powder bath together.
---
Destination Bathtubs: There has always been a lot of back and forth about whether to keep a bathtub in your master bathroom or stick to a shower. Those who love bathtubs have begun creating the idea of destination bathtubs. These bathtubs are no longer housed in a corner of the room but are often free-standing as a focal point and feature an amazing view through adjacent windows. 
This destination bathtub from the 2018 Home-A-Rama steals the show in the master bath.
There's nothing better than natural light for a relaxing bath.
---
Mixed Textiles: When decorating your living space, it's important that the selected pieces are comfortable but also functional. Over the last few years there has been an increase in buying separate pieces to work cohesively together rather than buying an entire set from the same location. This way, you are able to play with different textures, patterns and colors. Great rooms often feature leather arm chairs, a tweed-style couch and accent pillows to complete the room.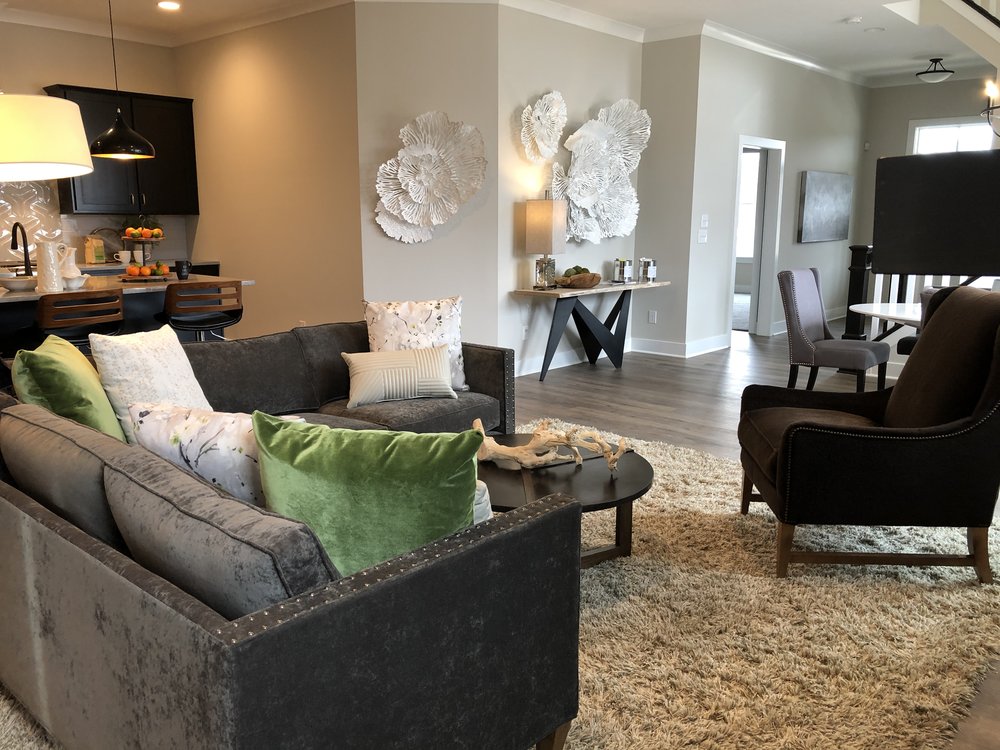 The living room of our newest model, the Sycamore, features a variety of textures.
Our 2018 Home-A-Rama home mixed textiles as well as colors; warm reds and oranges mixing with cool creams.
---
At Old Town Design Group, we understand that each homeowner has their own individual style and we want to design your home to reflect that in every way. We offer complimentary interior design services with our partner Everything Home Designs to each client throughout their build.
TOUR OUR MODEL HOMES THIS WEEKEND TO VIEW A VARIETY OF INTERIOR DESIGNS.
October 28 @ 2:00 pm - 4:00 pm
Be one of the first to walk through our newest townhome development, Midland South! Steps from the Midland Trace Trail, these contemporary townhomes feature three levels, with a two car garage, covered outdoor living spa...