The Miles family moved in just two weeks before inviting us in for a photo shoot and a conversation about what life is like in their brand-new Old Town Design Group home.
Can you tell me your Old Town Design Group Building Story?
A friend had asked me to go for a run on the Monon. It wasn't far into our run that we stumbled upon these charming, craftsman-style homes. It was love at first sight!
We lived in a home near Geist at the time, and it needed some TLC. That very afternoon, I went home and refinished the deck of our existing home in preparation to sell it and build with Old Town Design Group. I guess you could say I was 'all in' from the very beginning.
I called Gina and asked if Old Town Design Group had plans to build more homes in the Carmel Arts and Design District. We talked a little about what exactly we were interested in, and my heart skipped a beat when Gina said, "Well … we do have this one lot."
At that point, we had not been inside the model home, but the exterior charm and the idea of living in the Arts District was enough to rearrange our Saturday morning plans. We barely made it into the first room of the model home, and my husband Josh said, "This is it. This is the home for us."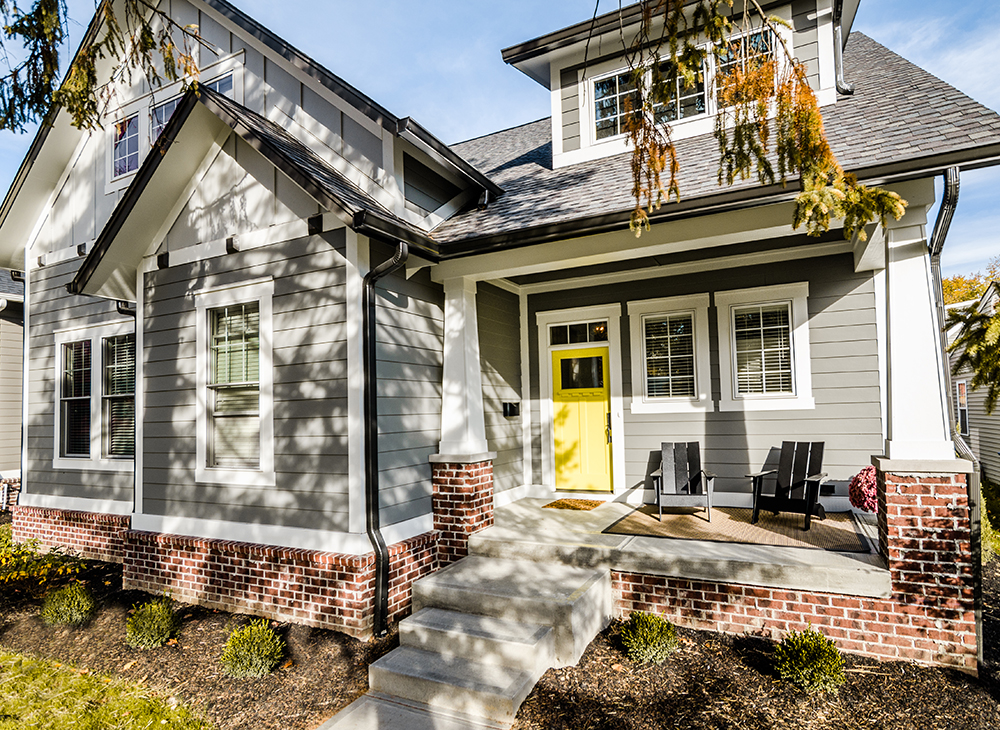 The overall use of space and the beautiful attention to detail drew us in immediately. We drove by the lot that was available. After seeing it, we called Gina immediately to request that she hold the lot for us.
That was in February 2014. Over the following months, we completed the renovations to the home we were living in, sold that home in November 2014, and started the building process in March 2015.
We moved into our new home in October of 2015, and we absolutely love it!
What was the building process like?
The building process was a little stressful, but overall, very exciting. Building a custom home, you have the opportunity to select everything. Not just the lighting fixtures, but where they should be installed, at what height, and even the type of light bulb you prefer. It is no small task!
Old Town Design Group was great about giving recommendations for best practices all throughout the design process. Our goal was to think through every detail in this home so we would enjoy living in it for many, many years.
We are beyond pleased with the outcome. It was worth every minute.
What is the biggest change that building with Old Town Design Group has created in your lifestyle?
We rented a home in Carmel just a mile from where we were building so our daughter could attend the elementary school she would attend in our new home. As an extra benefit, we could check in on the progress of construction daily!
As new Carmel residents, we didn't waste any time familiarizing ourselves with Main Street, City Center, the Monon Trail, and the variety of other things Carmel has to offer.
How do you describe your home?
It's a dream come true! We are incredibly grateful to have the opportunity to raise our family in this community.
What is your favorite part of your home?
We love the blend of old and new; classic and timeless architecture combined with the quality and craftsmanship of a brand-new Old Town Design Group custom home.
Where do you like to spend the most time in your home?
The main floor is the focal point for Josh and I. The open concept of the kitchen, dining, and living spaces are a connection point for our home office, master bedroom, and outdoor living area. With all of that livable space on the main floor, we spend the majority of our time there.
The basement is a more casual TV-watching space and a space for overnight guests. The second floor is a straight-up kid zone. The kids have their bedrooms, bathroom and the loft, which serves as an art/play area.
We would say that this home is just right for us, and it felt like home long before we moved in.
The Miles family found the home design and location that was right for them. Make the move and write your own building story with Old Town Design Group at our newest Monon community, Sunrise on the Monon, in the heart of Carmel.
LEARN MORE ABOUT SUNRISE ON THE MONON